---
---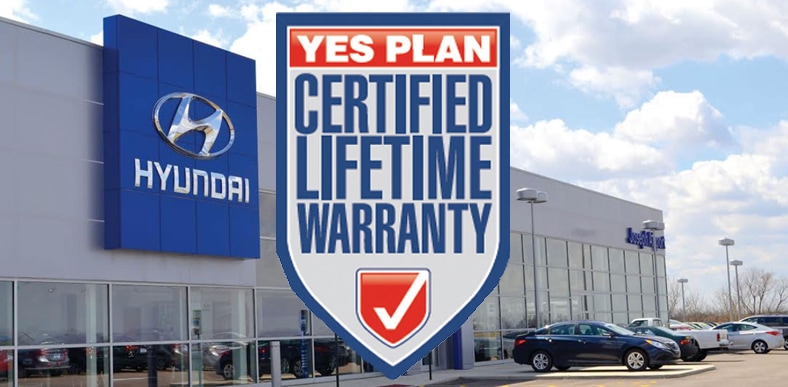 Shopping for a pre-owned vehicle is a great plan for price-conscious Vandalia drivers with an eye for value. Discover the benefits of Joseph Airport Hyundai's YES PLAN Certified Lifetime Warranty today. 
Used vehicles offer all the engineering perks and style of the brands that make them, but at lower price points and often without the effects of major depreciation. Still, some shoppers become nervous about buying their cars used, fearing unexpected surprises down the road and concerned that they're being taken for a ride. That's why we offer our reassuring YES PLAN at our Hyundai dealership in Vandalia, OH.
Benefits of Our YES PLAN
We're proud of all of the pre-owned vehicles we carry at Joseph Airport Hyundai, and we stand by every sale we make. It's what our YES PLAN Certified Lifetime Warranty* is all about, and it's why all of our used cars are covered by it. With this plan, you never have to worry about standard mechanical breakdowns and affording routine maintenance. 
That's because our outstanding nationwide powertrain warranty ensures you can buy your vehicle here and get it serviced anywhere. The warranty is available on most pre-owned vehicles model year 2013 or later with fewer than 80,000 miles on the odometer. It covers engine, drivetrain and transmission service, and it offers you priceless peace of mind.
Which Brands Are Eligible for the YES PLAN Certified Lifetime Warranty?
Eligible YES PLAN coverage includes brands like Mazda, Toyota, Nissan, Dodge, Honda, and Hyundai, along with the following:
Buick
Chrysler
Jeep
Chevrolet
Ford
Scion
Ram
Engine coverage:
Cylinder block, cylinder heads, rotor housings and their internal parts, intake manifold, exhaust manifolds, timing gears, timing chains or belts, timing chain or belt tensioners and timing chain or belt cover, valve covers, flywheel or flexplate, ring gear, harmonic balancer, oil pump, vacuum pumps, water pump, oil pan, turbocharger or supercharger housings and their internal parts, waste gate, intercooler, engine mounts and EGR valve.
Transmission/transfer case/all-wheel drive assembly coverage:
Transmission case, transaxle case, transfer case and their internal parts, torque converter, vacuum modulator, cooler and metal cooler lines, transmission mounts, slave cylinder and master cylinder of a manual transmission clutch assembly.
Drivetrain assembly coverage:
Front-wheel drive and rear-wheel-drive. Final drive and axle housings and their internal parts, axle shafts and bearings, universal and constant velocity joints, drive shafts, center bearings and drive shaft yokes, four-wheel-drive engagement actuator/motor, traction control linkage, solenoids, control processor and sensors and 4x4 locking hub.
Visit Joseph Airport Hyundai
, a dealership that's proud to offer a worry-free ownership experiences. Start driving in the perfect new-to-you vehicle today!
*See dealer for details. Not all cars eligible, see dealer list for exceptions. Deductibles apply. Prior sales excluded.