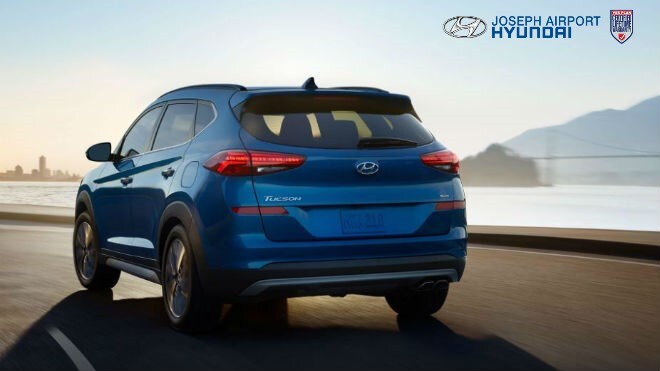 A Compact Crossover with a Compact Price
The popularity of the compact crossover SUV market has grown exponentially over the last few years.  Because of this, you can find the right small SUV for your drive when you visit our dealership of Joseph Airport Hyundai today.  You're going to find the used Hyundai Tucson that will check off all of the boxes for your drive in Huber Heights, OH today.
Why Should You Shop with Our Team?
We know that you have the option to choose any dealership you want to shop with for your next used Hyundai Tucson, but we make sure that you receive a lot more when you see our team.  At Joseph Airport Hyundai, we are the full-service dealership that offers you everything you are looking for in one convenient location.  Let one of our sales team members show you the large selection of
used Hyundai Tucson
models and then take you for a test drive.  Ask all the questions you want and learn as much as you can about the SUV that's going to be the right choice for you and your family.
More than a Great Selection
The Hyundai Tucson is the smallest of the used Hyundai SUVs you're going to find and we have the deals that will make this the right small SUV for you to drive.  Ask our team about the financing programs we offer and the discounts you can take advantage of when you're ready to drive home in the used Hyundai Tucson of your dreams.  This is a small and active SUV you can enjoy on the roads in Huber Heights, OH and you're going to have a small price to pay to be able to enjoy the high-quality drive offered.  
We Love to Say Yes
When you're looking at the used Hyundai Tucson models to find one that fits your lifestyle without breaking the bank, ask about our Yes Plan.  We love to say yes and will show you that this plan is the one that offers you a lifetime powertrain warranty when you choose one of the certified pre-owned models of the Tucson that meets the criteria set forth.  Let our team say yes to you with a warranty that will last as long as you own the Tucson that you choose and enjoy a confident drive for miles down the road.
A Full-Service Center to Enjoy
Not only does our team at Joseph Airport Hyundai offer you a large selection, great pricing, and the lifetime warranty you can enjoy, but we also offer you the service center that will take care of your used Hyundai Tucson whenever you need maintenance or repairs.  When you've chosen the right used Tucson to take home with you, you'll want to see our service team and figure out what the maintenance schedule should look like.  With everything we offer, you're going to want to see our dealership for your used Tucson that's the small SUV with the comfort you want, the style you deserve, and features you just can't live without.