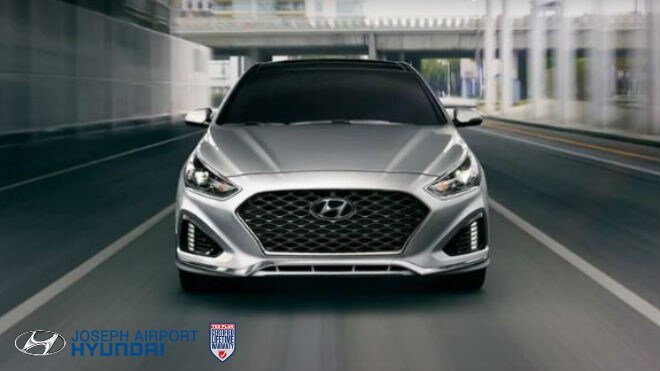 A Reliable Option for Any Need or Budget
If you're looking into buying pre-owned, you're going to want to consider a used Hyundai Sonata. Check one out here near Huber Heights, OH.
Here at Joseph Airport Hyundai, we strive to help you find the car that's right for you. We'd love to show you our great selection of
used Sonatas
, and we think that you're going to be impressed. Whatever your budget and needs, the Sonata is going to be a great choice for you. Visit us and see why you're going to love it.
Backed by Hyundai Reliability
When you buy a Hyundai, you'll also get peace of mind. Hyundai's are built to last, and the Sonata is no exception. This brand boasts America's best warranty program, and it's become one that's consistently been known for reliability and dependability. The Sonata brings affordability to dependability.
The Safest Sedan on the Streets
One of the other factors that make the Sonata so great is its superior safety standards. The Sonata has been consistently ranked as a top safety pick by the IIHS since 2014, meaning that it's going to be an exceptional choice, whether it's for the family or just you. Safety features like Lane Change Assist, Rear Cross-Traffic Alert and a rearview camera are all available options. With those features and more, you'll be able to drive with confidence knowing that you're in command of everything around you.
Designed for Practicality
You'll love the fact that the Sonata is created for comfort and convenience. An easy-to-use infotainment system makes it easy to connect your devices and stay in touch on the go. You'll also love the fact that the Sonata leaves lots of cargo and passenger space, making it possible to bring along everything you need while still keeping your back seat passengers comfortable.
See our Selection of Used Sonatas Today
Here at Joseph Airport Hyundai, we pride ourselves on bringing a great selection and great values to one convenient location. We're near Huber Heights, OH, making it easier to find the vehicle you want without the hassle of having to go far from home. You'll love our great deals on our used inventory, and we'd love to show you why the Sonata is such an excellent choice. Visit us today and see why for yourself.
Say YES To Our FREE Warranty
 After you buy your pre-owned car, truck or SUV, how do you know you are covered if an issue should arise? When you choose Joseph Airport Hyundai, you get the YES Plan Certified Lifetime Warranty that will give you the peace of mind you deserve. This plan comes at no additional cost on our eligible vehicles and is BETTER than a Certified Pre-Owned Warranty. Did we mention that we are the ONLY Hyundai dealer in the greater Dayton, OH area to offer this free warranty on our vehicles? Take advantage of this incredible warranty FOR FREE and save money on the pre-owned vehicle of your dreams when you shop with us. Come and see us today for more details.