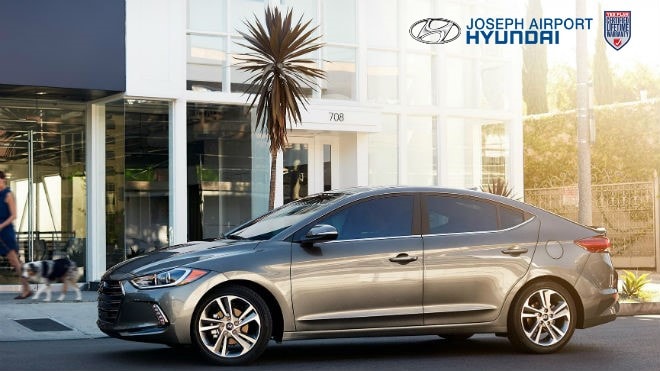 The Style, Quality, and Price You Want
What's the most important aspect of driving for you?  Thankfully, with one of the used Hyundai Elantra models we offer at Joseph Airport Hyundai near Huber Heights, OH, you don't have to limit it to just one characteristic.  Come in and see the models we offer that give you the style you'll admire, the quality you desire, and the price you can easily afford in your budget.
A Car Built to Drive
There a simple joy in driving a car that is comfortable, spacious, fuel-efficient, and affordable all in one package.  If you can toss in an attractive style, offer a few impressive features, and even give it a fantastic warranty, that's icing on the cake.  When you see our team, you'll find that we offer all of these items in the car you're going to take home to Huber Heights, OH today. Take a look at the variety of
used Hyundai Elantra
models we offer and enjoy the fact that this is a car that's the right size for every drive you need to make.  You'll be amazed by how easily you can get in and experience what the Elantra has to offer.
Perfect for the Family and the Commute
Do you have a commute that takes you several miles from home every day?  If so, the Elantra has been a car that's always given you excellent fuel mileage.  This is a car that offers you the ability to pass many fuel stations along your way every day.  Are you looking for the compact sedan that can fit your small but growing family? This is the car that has seating for five, offers an excellent safety record, and gives you a generous trunk to put your items in when you head out on the road.
A Warranty as the Cherry on Top
When you shop for a used vehicle, you often have to buy them "as-is" which means you have no warranty or protection at all.  Stop by and let our team at Joseph Airport Hyundai tell you all about our Yes Plan warranty coverage that will allow you to have the added and extended protection you're looking for.  With this protection, you're going to have a used Hyundai Elantra vehicle to drive that feels like you are in a new model, making it the perfect choice for you when you head out on the roads around Huber Heights, OH.
Test Drive the Right Elantra Today
We offer you a large selection of used Hyundai Elantra models you want to make your own so stop by and test drive the  Elantra that you want to drive home in. We'll be glad to take you on a test drive in several different models to allow you to decide which model is the right one for not only your lifestyle but your budget too.  Come in and see what we've got to offer and select the Elantra that meets your driving needs. With everything we offer, you're going to agree that the Elantra is the is a great option for your daily driver and the price is great too!
Say YES To Our FREE Warranty
 After you buy your pre-owned car, truck or SUV, how do you know you are covered if an issue should arise? When you choose Joseph Airport Hyundai, you get the YES Plan Certified Lifetime Warranty that will give you the peace of mind you deserve. This plan comes at no additional cost on our eligible vehicles and is BETTER than a Certified Pre-Owned Warranty. Did we mention that we are the ONLY Hyundai dealer in the greater Dayton, OH area to offer this free warranty on our vehicles? Take advantage of this incredible warranty FOR FREE and save money on the pre-owned vehicle of your dreams when you shop with us. Come and see us today for more details. 
Hours
Monday

9:00am - 7:00pm

Tuesday

9:00am - 7:00pm

Wednesday

9:00am - 7:00pm

Thursday

9:00am - 7:00pm

Friday

9:00am - 6:00pm

Saturday

9:00am - 5:00pm

Sunday

Closed
Make an Inquiry